Jewelry Boxes and Organizers

Color: Black Verified Purchase
This jewelry organizer is very versatile with the pockets AND the loops for hanging larger and longer necklaces so that they do not have to be scrunched up into one of the pockets. It has helped me to gain dressing table space that was previously cluttered with necklaces and jewelry boxes. It's much quicker to find the jewelry I want to wear and to not have to untangle bracelets and necklaces. Would recommend to anyone who likes jewelry and needs to organize and save space. Would make a good gift for a girlfriend or teen.

Verified Purchase
This is a gorgeous jewelry box. I was searching for one for my new granddaughter, and am so glad that I chose this one by Lenox. My grandson couldn't stop staring at the dancing ballerina! Everyone loved it. It's definitely a keeper! Highly recommend this product. Outstanding craftsmanship and quality.

Color: Green
Verified Purchase
I LOVE, LOVE this. I had an expensive metal hanging piece in my room and the earrings would always fall off and I couldn't take it with me. I travel a lot so this is perfect. It hangs on the back of my bedroom door, nothing has fallen off, I roll it up when I need to and put in my suitcase and then unroll and hang when I get to where I'm going. Can't believe it took me so long to find this scroll.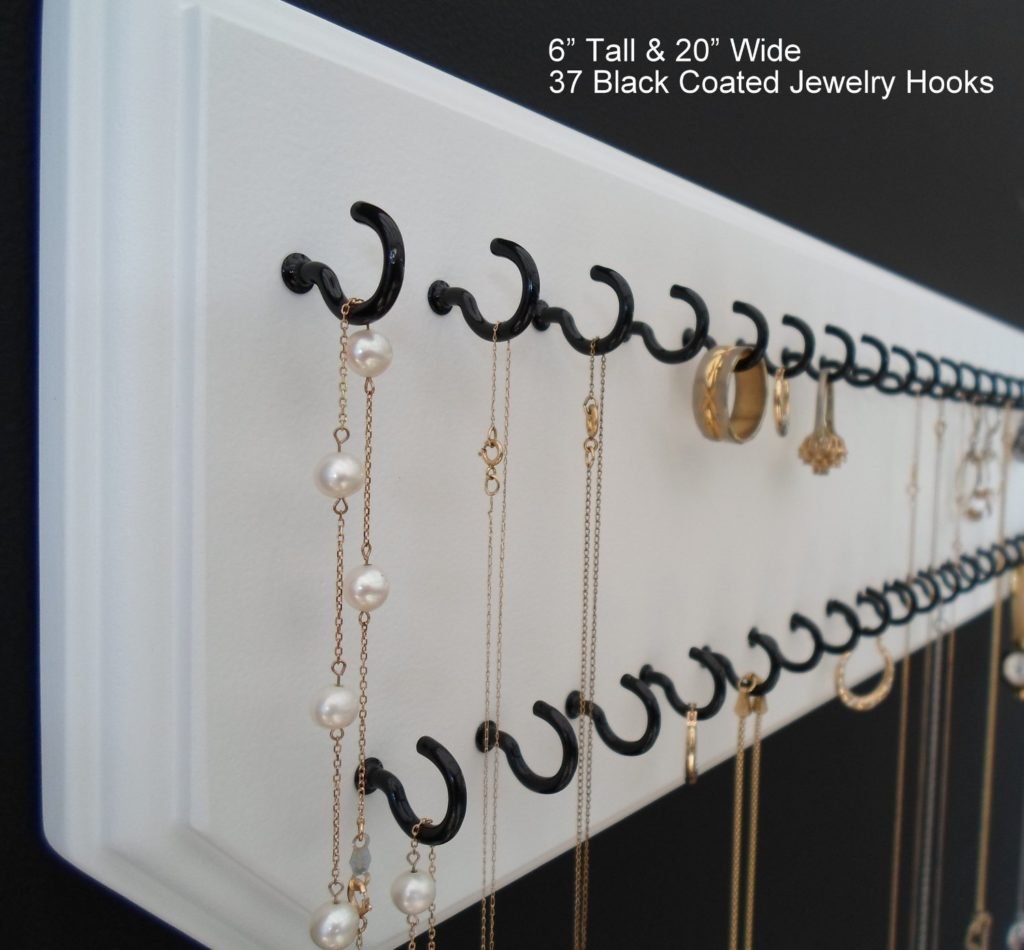 Extremely happy with this purchase. Instructions couldn't be easier. I installed four in less than an hour. I think the shipping charges are reasonable, considering they are wrapped to ensure no breakage. This is the best wall mounted jewelry organizer I've ever found.

Verified Purchase
I like this organizer because it is so useful for a lot of things – not just jewelry. I have been using it for craft supplies because they fit so well in the pockets. It is a really pretty purple color on the outside, so when it is folded up you can't see the contents and it is great for travelling. It comes with a hook on the top so you can hang it on a door where you can access everything easily. This has 6 larger separated zipper pockets on the bottom and 6 smaller separated zipper pockets at the top as well as a few zipper pockets on the outside. And it all rolls up into a nice little package and snaps shut.

Verified Purchase
I got this dual side hanging jewelry hanger. This is very well made and very durable. All you you need to do is add a hanger to it and you can hung it in your closet or on the back of your closet door. There are pockets in this for rings, bracelets, and the back has hooks for necklaces. This would make a great gift for someone that has a lot of jewelry. This is a good way to keep your jewelry organized. I am going to give this to my mom for Christmas, she collects antique pins and this will be a nice to keep them in. I received this product for a discounted price for my honest review.

Size: 36 Comparments
Color: Clear
Verified Purchase
I am loving this box. It is a nice quality plastic that will keep things dry and stand up to daily use. It has so many uses, especially since you can adjust the dividers inside to fit whatever you want. I am using this box to help store and organize my young daughter's hair accessories. She has different types and sizes of ponytail holders, barrettes and clips… It can be overwhelming to just have it thrown in a drawer or basket. It was hard to find matching pieces. Now, I have everything all in the container. I stored the extra dividers that I moved in the back and everything is all together in one place. The size was perfect for fitting in a bathroom drawer. Now we have everything together and easily accessible when I am doing my daughter's hair. Please note, I received a discount in exchange for my honest opinion.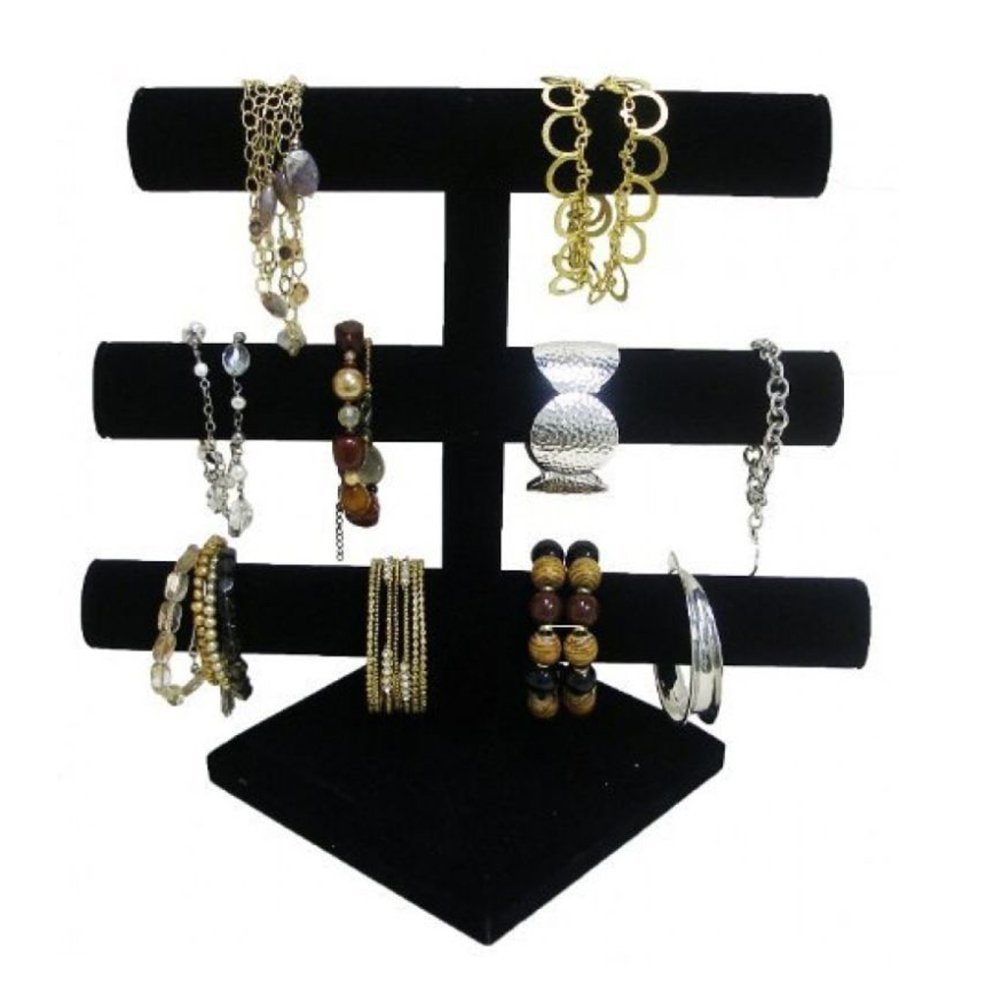 This is a beautiful T-bar bracelet stand that is made of black velvet. I really like that it has 3 different height level tiers. With the different levels you are able to use it for your bracelets, bangles, watches, necklace and more. It is well made and I am able to put some of my necklace that are a little bulky on the bars which are able to hold without tilting or tipping over. Each bar is different in length, longer on the bottom then medium in the middle and a smaller one at the top, you can fit a lot of bracelet on these different size bars. This is a beautiful display, I put mines on top of my vanity, it blended in well and matches the décor in my bedroom. It has that elegant look to it. I love jewelry and have ran out of space to store them. I have some in my jewelry box, on my dresser, now I have this and it's a life saver, now they are all organized in one place.
I received this product for free in exchange for my honest and unbiased opinion and is based solely on my experience with the product.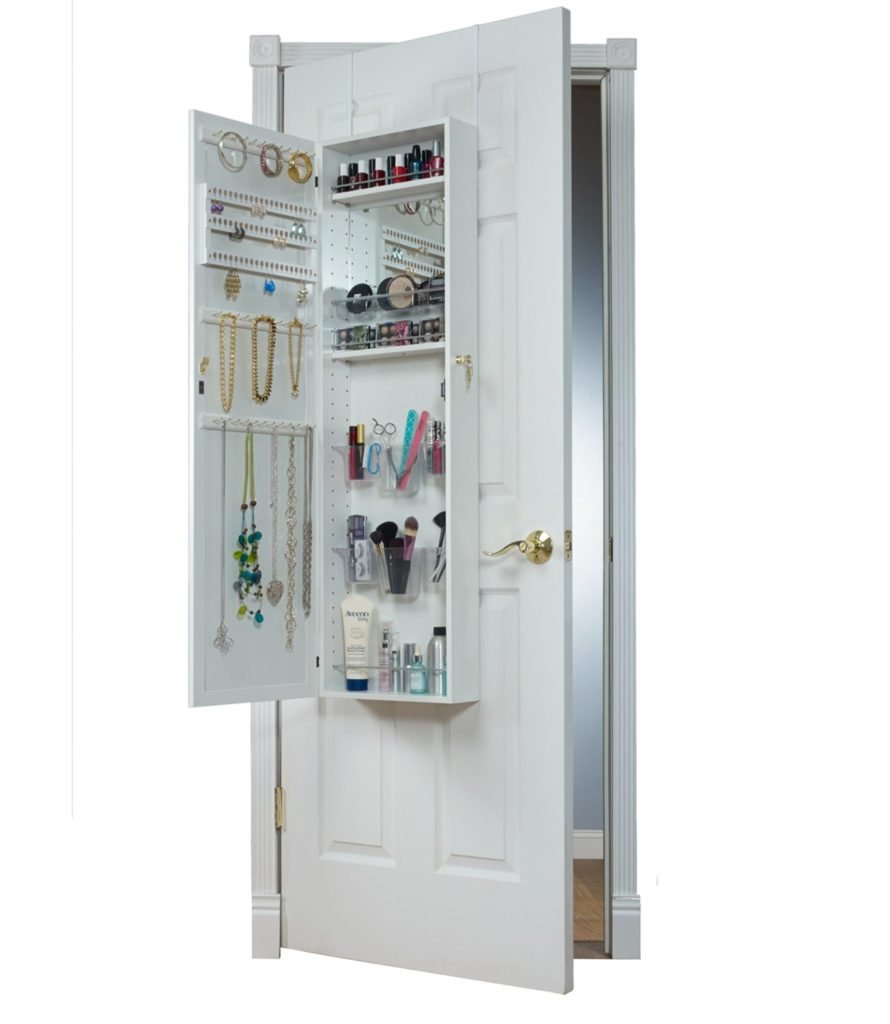 Size: Over The Door
Color: White
Vine Customer Review of Free Product
I'm really pleased with the Mirrotek Over The Door Combination Jewelry and Makeup Armoire. I have to say right off the bat though that we did not hang this unit over a door but mounted it permanently to the wall with screws. I knew when I ordered this that I would not hang it over a door. I knew that the size of the unit would be quite heavy and would put significant weight on the door's hinges. I also had the perfect spot in mind for this on my closet wall.
When the unit arrived I was very pleased with the construction and quality. It is very heavy as I expected. The hangers that arrived with the door wasn't too impressive and I wouldn't be as excited to hang this unit on a door as much as I would to have it permanently mounted. It works great permanently mounted.
The unit is mirrored which also worked out great for my closet. I did not have a mirror inside my closet. The unit has a lock built into it and comes with 2 keys so you can lock it if you need to. It contains 36 brass hooks for necklaces or bracelets. It also has built in earring holders, I don't wear earrings so I'm still trying to figure out a use for this feature. It has plastic and wood shelving and plastic cups for odds and ends. The quality of the shelving is just ok. Since mine is permanently mounted, it's not as much of an issue as it would be if it were hanging on a door that is being opened constantly.
The unit is very large and holds quite a bit. It was exactly what I needed for all my jewelry. I also really like that the door is mirrored. I recommend permanently mounting if you can because then you don't have to worry about the unit getting too heavy if you load it up with heavy items. You also don't have to worry about movement and shelves maybe getting knocked out or items falling inside.

Color: Black
Verified Purchase
This was exactly what I needed. I'm a bit of a jewelry hound, and can now keep all of my assorted beads, rings, necklaces, bracelets, pocket watches etc etc in one place, sorted. Fits perfectly on my dresser.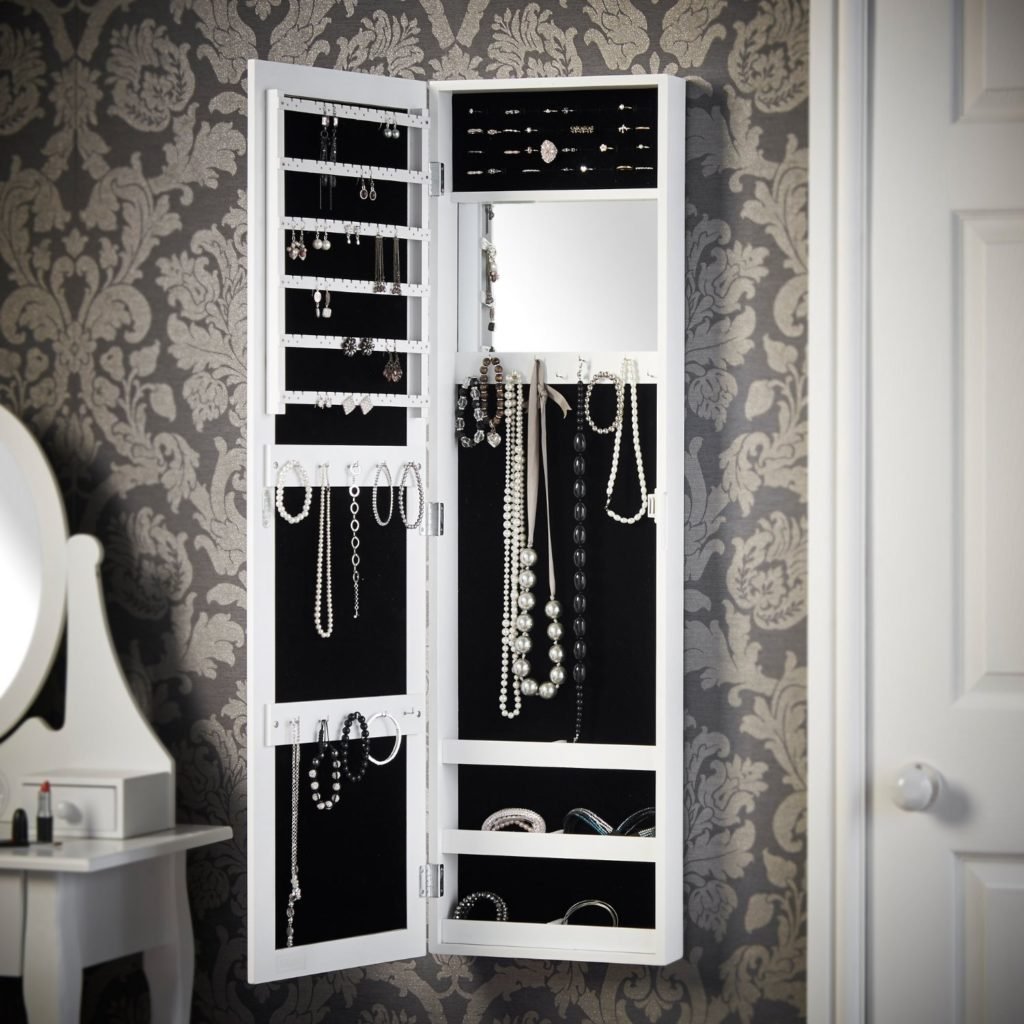 Love this item. It has plenty of necklace hangers for all lengths, lots of ear ring holders, etc. Easy to hang and looks great.